A big thank you to everyone who has commented or emailed or discussed this podcast on the Big Tent forum! I talk about a bit about family legacy of crafting, what I working on this week, and finish up with a short tutorial on using fleece as a quilt backing/backing combo. I also give a recommendation on a scifi series.

P.S. - My cat Zapper says hi.
New Fall Placemats! They have already been spilled on.
Step 1: Lay out the top on the quilt backing. I recommend using spray adhesive and pins due to stretchy nature of fleece.
Step 2: Quilt! I used the walking foot on my machine and just did straight line quilting. Here's the back of mine.
Step 3: Prepare the mitre corner- mark where you want to stitch.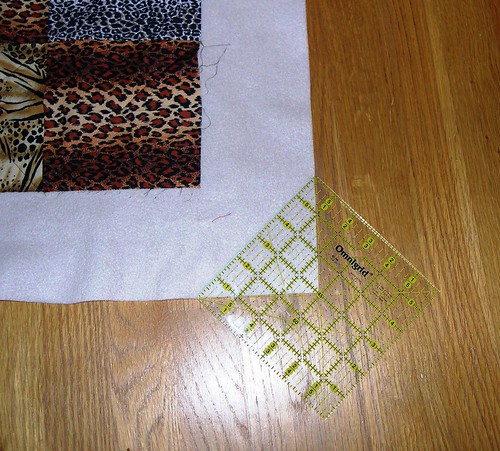 Step 4: Trim a rough 1/4" on the outside of the marked stitch line.
Step 5: Pin! I also used spray adhesive for this step as well. Notice how trimming the bulk out of the mitre seam helps it lay flat. Fleece will melt on a high heat setting, so lower the temp on your iron if you want to press it.
Step 6: Stitch! I used a standard blanket stitch. Feel free to be fancier.
Step 7: Cuddle and enjoy!