Having resolved the Camerapocalypse, here's what caused the Lintpocalypse in my machine last week.
When Quilting Jenny had her blogaversary giveaways, I won the one on the last day, which was a kit for a denim quilt.  The finished quilt measures 60×60″.  To make it you, pair a denim square with a flannel square (wrong sides today) and stitch them together with an "x" on each block.  Then you piece the individual squares together into blocks that measure 12″ and then stitch them into chunks and then voila! you end up with a quilty-blanket sort of thing (with no batting since it's rather heavy already).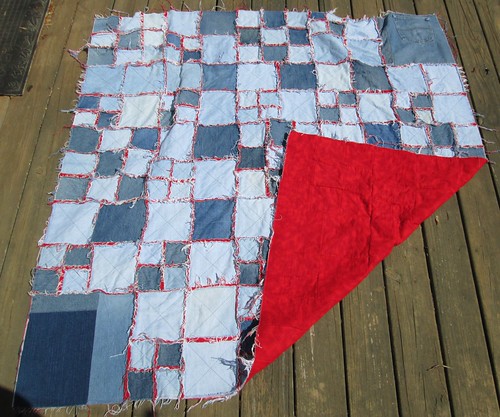 I used some red flannel for mine, mostly since that's the flannel that I had on hand.  I had thought I would finish it last week to use for the finals of baseball, but wouldn't you know that the weather over the weekend was warm enough not need it. So there's that.
(everyone go buy a fat quarter! I used one of my catch phrases!)
Also, in her instructions, Jenny said you could speed the "fringing" of the seams by clipping the seam allowances. I found that wasn't necessary since a good wash and dry cycle fringed it up nicely.
My mom was nice enough to send me pictures of the covers I made for her for Mother's Day since I forgot to take pictures before I mailed them.
The fabric I used was the leftovers from her kitchen curtains, which I had previously used for her Pineapple quilt, Iz. I'm sure my mom has already figured out that, given the opportunity, cats will enjoy using those covers as forts.