At long last, the final Star Wars quilt is DONE! I finished it during the Black Friday Sew In yesterday (thanks for entering the giveaway - the winner has been notified by email!).
The layout is the same as the previous quilts - applique center panel with a logo border and surrounding "pictures".
Perhaps you've heard that the Millennium Falcon is my favorite ship ever, so of course that's what I put in the center of my own Star Wars quilt.
You can see a bit of the lime green thread I used to mimic the hyperdrive jump in the starfield.  I have a thicker thread I would have loved to use, but my machine gets cranky about it so I had to stick with the Aurifil, which quilts like a hot knife through butter.
Of course the only way to improve Han Solo is to surround him by cats.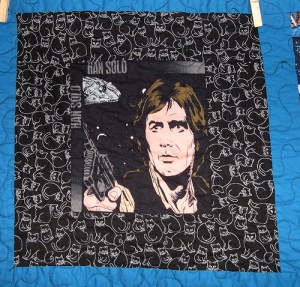 I still love C3P0 being crushed by the tires in the trash compactor on the prison level.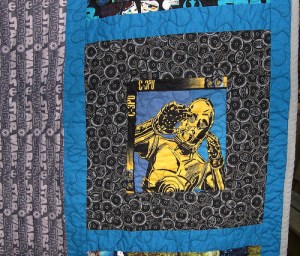 Bonus shot- I had some leftover ships I had prepped to use on a previous Star Wars quilt, but they weren't working out the way I wanted. I used them instead to make a subtle new nametag for my guild.
I think Morelli has as big a crush on Han Solo as me.