Lots of stuff going on this week! I finished a smaller charity quilt using panels from The Lorax children's book, and two storage bags for recent finishes.  On top of that, I also finished the Quilt of Valor.  I forgot to take pictures of it before taking it to guild for donation, so here's me showing it at the meeting this morning. Pattern was inspired by Cozy Quilt "Long May She Wave", which I bought but ultimately didn't use because I don't like the tube strip method for HSTs, so I changed the size of the HSTs and made them a different way AND changed the star in the corner, all like an irritating recipe reviewer who never follows the directions and then criticizes the food.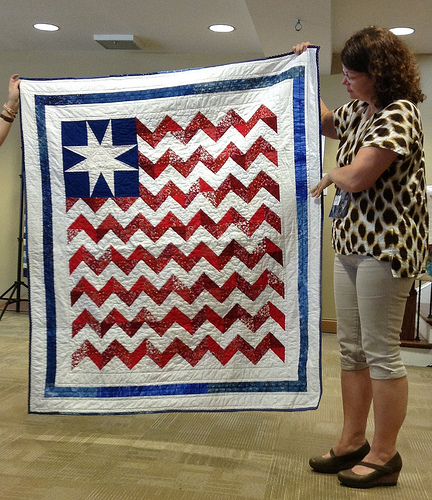 In other exciting news, my Round Robin quilt top came home! I'm about halfway done quilting it because I was so excited I went right ahead and started on it.  I added the bird in the center because Sally so nicely sent extra applique birds from her round, and it really brought the design together.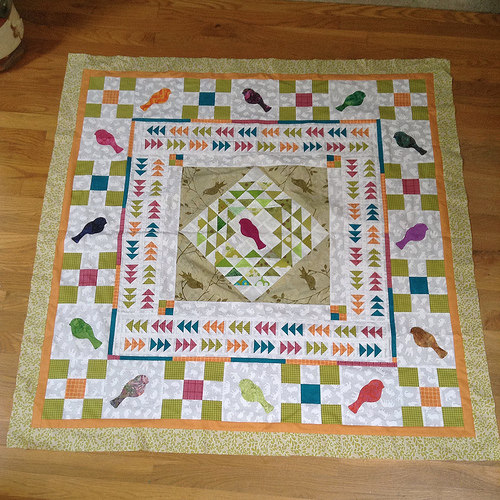 Used this Week: 12.75 yards

3.5 yd for Lorax baby quilt
2 yd for storage bags
1.25 in FQs for Quilt-o entry
6 yd for Quilt of Valor

Used year to Date: 203.25 yards
Added this Week: 5.75 yards

2 yd of Kona Ash
3 yd of Kona jellyroll
0.75 yd of 3 FQs from friend's destash

Net Used for 2015: 

106 yards

YTD Used for Charity: 117.25 yards (58% of total used)
See more Stash Reports at Patchwork Times!