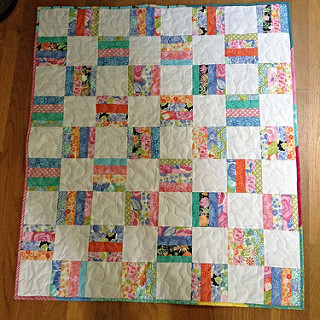 Under the need today is a series of fleece covers for scrap-stuffed pet beds, which are not exciting to look at.  Instead, here's a couple recent finishes!
Last week I finished the "Baby Rails Quilt", which is made from scraps and trimmings from another quilt.  It's about 40 x 50″ finished.
I pieced the back out of fat quarters in the same colors, and I did the scrappy binding.
I also made a zipper pouch out of some leftover blocks from the coordinating quilt; I was playing with the Quick Curve Ruler, and this block is one of the patterns available for it.  I happened to to be bad at counting and had some extras after finishing the quilt top.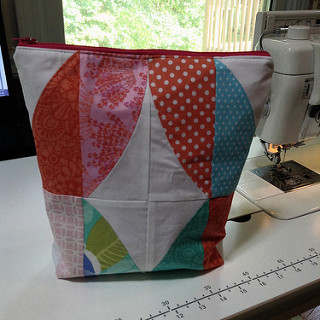 After I finish my pet bed covers, I'm working on the quilt for the Good Mews auction; it's due in about a month, and I've been piecing 6″ finished blocks for months for it, and I just need to bring them all together into a top. Mostly I'm trying to figure out whether to use white or cream for the background, and whether it should be scrappy or a single fabric.
And I'm also doing some HSTs for a new Quilt of Valor - those are leaders and enders, though, so they'll be going on for a while.
See more WIPs at Lee's blog!