Some nice usage this week with the Labyrinth quilt and my Petrillo bag and new purse insert.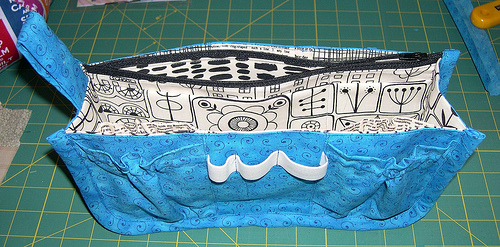 I decided that I needed the purse insert since the Petrillo bag only has two interior pockets, and I'm used to a couple more, at least for cell phone and notepad.  I've had this pattern from Studio Kat for a while, and the large size was perfect for both the Petrillo and the Vera Bradley bag I use on vacation at the beach.  I didn't pick the colors to match any particular bag, so the black & white prints from Summersville work great.  I'd recommend the pattern if you have a lot of patience and good organization; there's a bunch of pieces to keep track of.  The instructions are well written, but you need to read them a couple times before sewing.
I did finish that final pie pan holder, and couldn't resist this applique from the hunky patriots fabric I still have some pieces of in my stash.  I'm sure my MIL will appreciate it, although the family didn't really need another reason to eat more pie to get the bottom of the pan.
Used this Week: 14 yards

8.25 yd for Labyrinth quilt
2 yd for pie pan holders
2.5 yd for Petrillo Bag
1.25 yd for purse insert

Used year to Date: 144.5 yards
Added this Week: 0 yards
Net Used for 2013: 73.5 yards
YTD Used for Charity: 69.5 yards (48% of total used)
See more stash reports at Patchwork Times!