I juuuuusssssst finished a second project this weekend. Like, just now, clipped the final strap on and turned off the machine 2 minutes ago.  I haven't even taken the time to stretch out my back from the intense sewing so I'm writing this like I live in a bell tower in a French Gothic novel.
Anywho, a billion and one finishes later, I've made another bunch of postcards this week and finished the Sew Sturdy Travel Organizer Hanging Cosmetic Bag from Annie Unrein on Craftsy. As with most bag classes, the tricky part is watching out for the bulk in seams, and it's not too bad.  I'll have more coherent thoughts on the class when I post pictures of my finished bag tomorrow or so, but suffice to say, I didn't die while making it.
Ah, yes, writing reviews while bleary-eyed and hunchbacked. "This project didn't kill me so I guess it's pretty good. Two soulless-eyes-staring-into-the-void up!"
I did manage to slice my fingertip open yesterday while making more postcards, thanks to Nina walking in front of me while I was at the machine. It should heal quickly but, still, ouch.  Here's a sample of what I finished this weekend; I think I'm done with postcards since I'm out of batting scraps (more on that later) and the will to carry on with these things.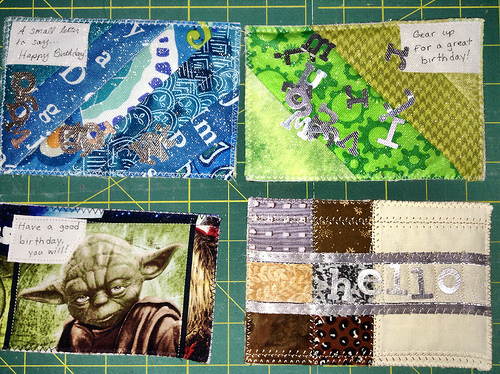 The metallic letters I've had for TEN YEARS; I originally got them to embellish a single scrap book page for my in-laws when my now-10 year old was a baby, and I'm happy to finally find another use for them.  They are held in place either by ribbon (which I took off a present my cousin mailed me this week - technically she didn't tell me to wait until Christmas to open it!), or tulle.  The Yoda one is awesome just because.
I also pieced together a bunch of Frankenbatting since the batting drawer was getting a bit crazy.  I also want to make some soup bowl caddy things since we've been eating a lot more stew since the weather got colder, so that's next up, I think.
Used this Week: 3.25 yards

0.5 yd for postcards
2.75 yd for Hanging Cosmetic Organizer

Used year to Date: 321 yards
Added this Week: 0 yards
Net Used for 2014: 199 yards (soooooo close!)
YTD Used for Charity: 116 yards (36% of total used)
See more Stash Reports at Patchwork Times!