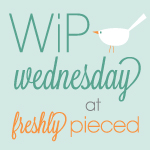 But first! A short list of things it's hard to do while a cat is curled inside your shirt, sucking up all your body heat because the Polar Vortex is a stinker:
Write blog posts.
Drink coffee.
Live one's life.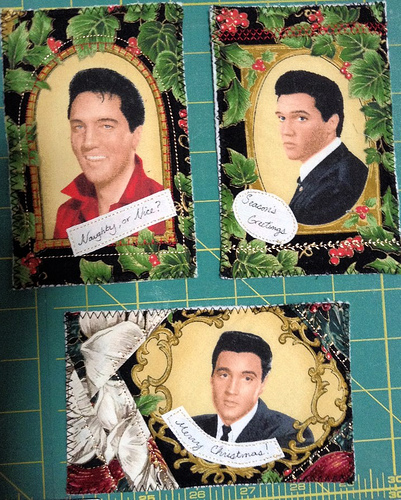 So, cat's-in-shirt-aside, I've been tackling some small projects.  Here are my latest Elvis postcards I finished up on Monday. More decorative stitches and some appliqued sayings to liven them up a bit. "Naughty or Nice?" is my favorite one.
I also finished a totebag pattern I was testing, so pics of that will be up soon-ish once the pattern is officially for sale.  On top of all that sewing, I also had to replace the zipper in my daughter's heavy jacket thanks to the cold weather!
This week I also became enamored with small projects, and will be making a Minecraft pencil pouch for a birthday present, more postcards, and some random project I haven't yet picked for my guild sew-in tomorrow night.  I also bought this Craftsy class on Travel Organizers that I'm itching to start, but need to pace myself and pick up the hardware first.