This week I managed to finish up a miniquilt and 18 luggage tags for work presents (don't ask - half of them I had to throw away because of problems with the ink smearing on the printable fabric I used once I got close to the end).
I also made myself a new purse, which I am delighted with.  I use the "Candice Bag" pattern from Lazy Girl Designs.  Rather than just use a plain piece of fabric for the pocket exterior, I spent a little more time and paper pieced a ring of flying geese using this free pattern, scaled down to a 10″ block.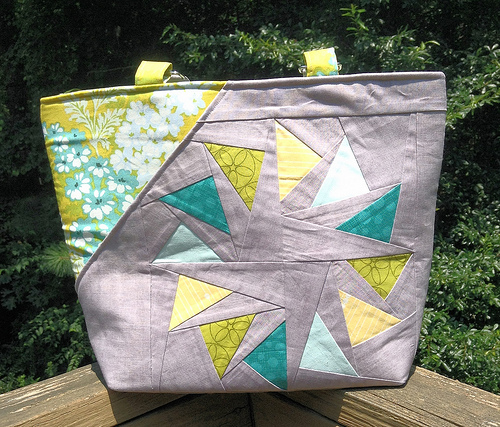 I used the last of the gray fabric from my Lone(ly) Rainbow quilt for the exterior; quite literally, I have a 2″ x 18″ strip of it left. Whew.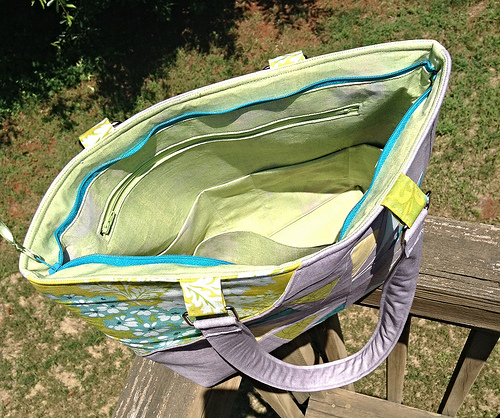 There are plenty of interior pockets, too - one is a "fat" pocket to stash my Kindle, and maybe one day an iPad (I have to save my pennies!).  I also added an interior zip pocket for makeup and other "lady things" that I don't want to be out in plain view if I leave it unzipped. So, a fairly productive week.  Next up I'm tackling a smaller quilt on commission, but I don't think I'll finish it before bedtime tonight.
Used this Week: 3.5 yards

3.5 yd for various work presents
2.5 for Candice Bag

Used year to Date: 148.75 yards
Added this Week: 1 yard

1 yd various FQs for a birthday gift

Net Used for 2015: 

70 yards

YTD Used for Charity: 73 yards (49% of total used)
See more Stash Reports at Patchwork Times!