By some miracle, I managed to finish the Bonnie and Camille quilt, now known as "The Kitchen Sink", between quilt show duties.  The show went great, with lots of good feedback from the attendees and delighted people in general. Super fun.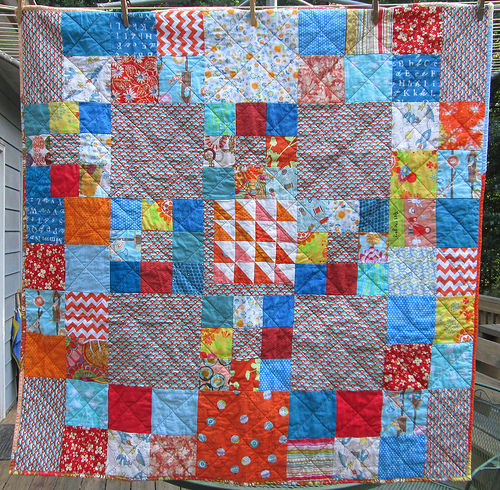 I'll post pictures of The Kitchen Sink later this week, but in the mean time, here are pictures of the Orange & Teal charity baby quilt I finished last week.
It went together quick since the blocks are simple mixes of 9 patches and 4 patches, and I guess 1 patches? Just big old blocks of fabrics!
I did straight line quilting with a thicker orange thread.
Here's a closer picture of the center - the chunk of fabric in the upper left was the color inspiration for the teal and orange with pops of yellow.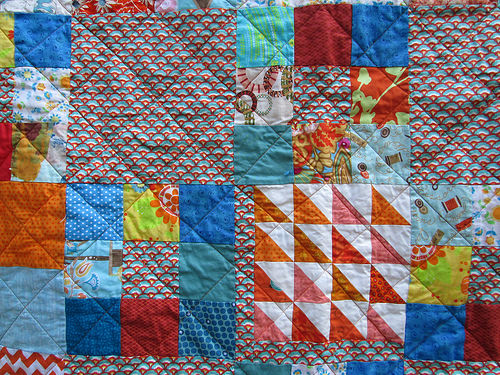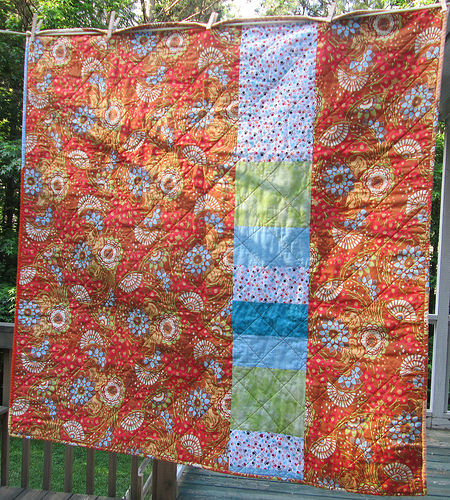 And here's the back, which is pieced, of course!
Used this Week: 5.75 yards

5.75 yd for The Kitchen Sink quilt

Used year to Date: 140.5 yards
Added this Week: 0 yards
Net Used for 2015: 69.25 yards
YTD Used for Charity: 69 yards (49% of total used)
See more Stash Reports at Patchwork Times!