When I was thinking of this quilt during the block-of-the-month process, I was trying to think of a way to finish it that would be a little different from the standard 3 x 4 layout and refer in some way to the retro-style for the fabric used.
My first attempt was going to incorporate 6 applique blocks reminiscent of the "day of the week" kitten embroidery patterns. I got two blocks into the patterns and just wasn't happy with the outcome. Perhaps sticking with embroidery would have been better, but with such a busy tiny dot background, the thread would not have show up well. And swapping out the background fabric for a traditional lighter color would have been too jarring, I think.
So, in the end, I did what I've been wanting to do with the Saturday Sampler blocks: put them around a center medallion.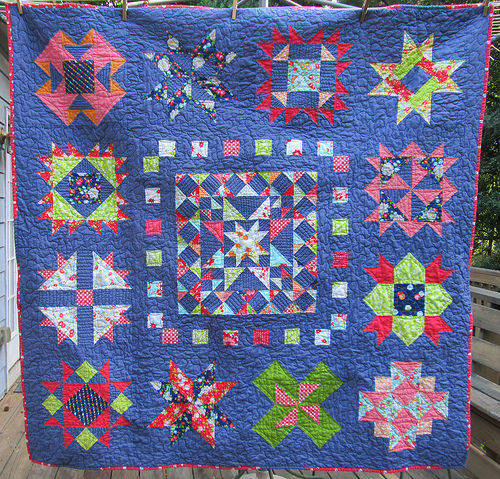 In the blocks, one particular fabric was offered up twice and both times I substituted in something different because I just didn't like it.  It was lighter background with orange flowers, and given the color-richness of the other fabrics, it didn't quite look right to my eye within the 12 sampler blocks. That meant I had enough of it to use for the center star in the medallion.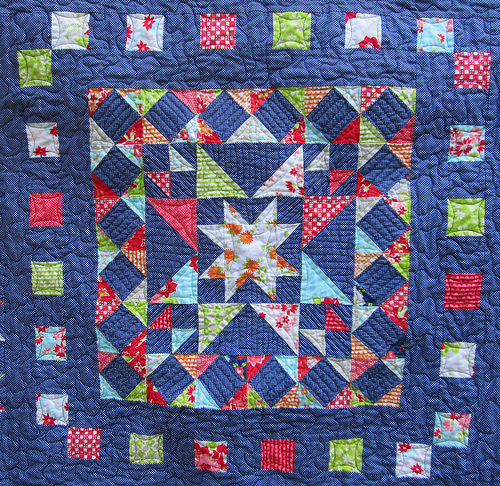 I did a star within a star for the center, surround by squares within squares. And then just regular squares. The entire center medallion was made from one charm pack and scraps leftover from the block construction, plus the navy dot yardage for the background.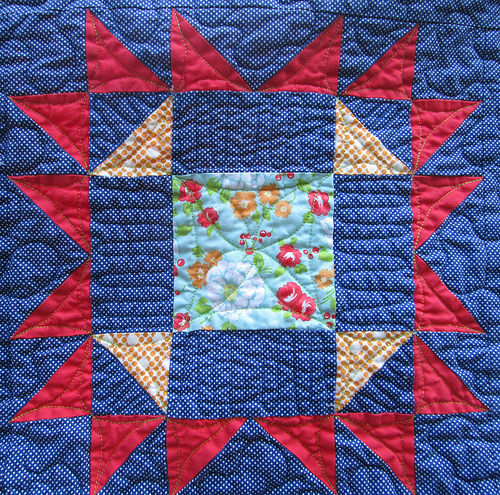 I called this quilt Kitchen Sink because of the mix of quilting textures in the blocks: orange peel and cheese grater (or whatever that not-quite-matchstick quilting is called!).
The orange peel quilting comes together in the blocks with large center squares to make a flower of sorts.
For the back of the quilt, I had picked up two yards of a reddish-orange reproduction print with tiny white  dots and small kittens. Because while I couldn't use my kitten applique, I did need kittens in there somewhere.  The trimmings from the backing after I quilted it were enough to make most of the binding, interspersed with some of the blue from the background.