I put the final stitches on my project from Charlotte Angotti's "Surprise Yourself" class a bit ago, and decided to be Fancy and use wool batting in it. Since I made it for my mom for "decorating" purposes, I thought the wool would be a good choice since it does not have as much of a memory for folds as a cotton batting would.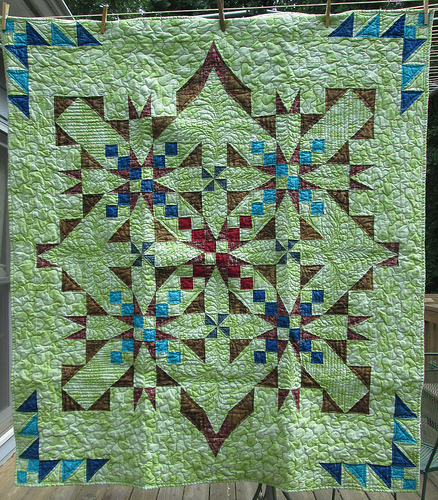 The premise of Charlotte's class is that you make a bunch of units without really planning and then figure out how to pull them together. You can imagine how this process goes over with a planner like me. Let's see, here's a list of things I dislike in quilting:
Leftover bits
Feeling like I've wasted fabric by having leftover bits.
So my design evolved to make use of pretty much every four patch, HST, and tri-rec unit we made.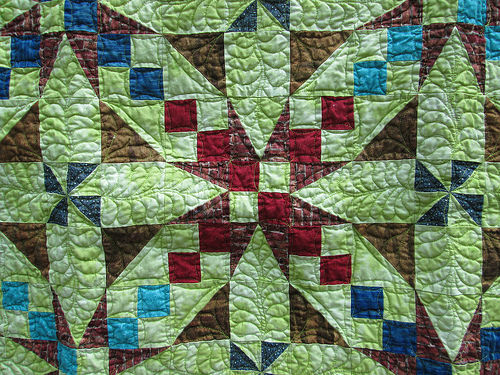 FYI, wool batting is very foofy. The cats had a great time playing with the bits sticking out from under the top after it was sandwiched.
The other good thing about a foofy batting (technical term is having "loft"), is that it shows off quilting really well. So, you know, no pressure! I did a mix of feathers, orange peel, and some meadering in the background area.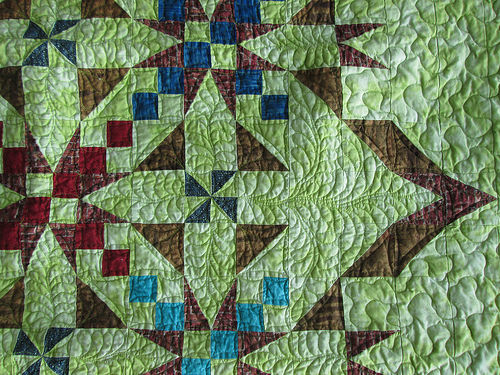 All of that quilting is easy to see on the back, which has my one leftover block and some pieces from the fabric my mom picked out for the quilt.