I should probably just quit while I'm ahead since I finally remembered WIP Wednesday on an actual Wednesday. Amazing times, my friends. Of course the week I remember is the week I can't show what I'm actually working on since it's a long-term gift for someone I know reads the blog. Alas. Instead, here's a picture of a recent finish: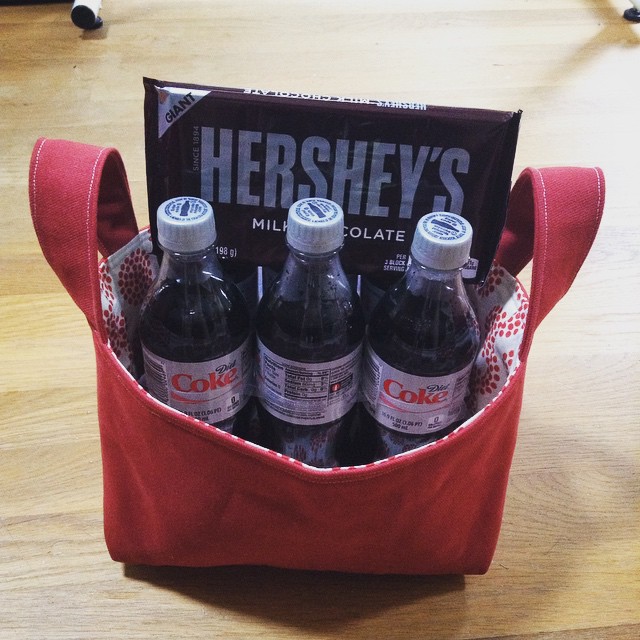 After hearing Tanesha talk about, and knowing it was a free pattern at Craftsy, I gave the 1 Hour Basket a shot.  It took me 43 minutes, but bear in mind that I've made A LOT of bags and baskets over time.  I saved the most time by fusing my exterior fabrics to the fleece, and then laying them right sides together and cutting the 3″ gusset notches before sewing.  This also enabled me to stay stitch the end of each stitch line, which might otherwise unravel if you sew and then cut the notches. Ditto for the interior - lay them RST, cut the notches, and then sew the pieces.
FYI, the basket itself can hold a 6 pack of Diet Coke, as seen above.  This is a 5th grade teacher gift, and her favorites are Diet Coke and milk chocolate.  I also included a gift certificate to her favorite restaurant.
If you want a slightly more challenging basket pattern, which is not difficult, but a little more involved than the 1 Hour Basket, I recommend Noodlehead's Divided Basket.
See more WIPs at Lee's blog!