I'm actually in the middle of a couple projects, but it's becoming clear that within the span of these projects, I'll need to tackle the mound of fabric bits waiting to be cut into usable scrap sizes.  Soon.
As in, VERY SOON. Before-it-eats-the-cat-SOON.
Not shown behind the wall of scraps: a three-eyed crow and the white walkers. Shout out to my Game of Thrones peeps!
In the bottom left of the picture are teal and brown scraps which are being integrated into the two pillow covers I need to make to coordinate with my parents' quilt. Just slightly off camera to the right are the bits going into a Sew Together bag.
At the top of the picture, in white and brown, is the wrong side of the top of the seat cushion I'm making for my office chair (I've either blown out the seat cushion in the chair itself, or the padding in my own butt, but either way, I need to remedy the situation). This particular project is a bit like a mystical portal that moves everyday so the cats won't keep sitting on it before it's done.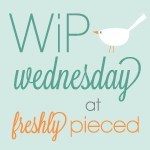 A key to getting all these scraps cut is that I'll be using them to decide what sort of pattern I'll be using to make a wedding quilt, so I'll need to decide on a pattern soon so I can cut into appropriate scraps for the quilt (for the appropriate colors) rather than my standard sizes so I can economize my effort.