Well. I have 1 side out of 4 border pieces sewn on Easy Street. As there is nowhere to spread this out in my house due to the fact that there's Santa Claus throw up still all over my living room floor (in the form of a giant slot car track), you get a picture of a portion of it.
I'm using my "constant" fabric for the border.  Since I added another row and column of blocks to make it a 5 x 5 layout of A Blocks (Bonnie had it at 4×4), I only needed a 3″ border to make it king size and tie it all together.  My regular LAQ is booked up until after April, so I may take a stab at quilting this one myself on a long arm to get it finished within the quarter.  Go see more Easy Street progress at Bonnie's linky!
I have been enjoying one of my Christmas presents - a giant set of cutting mats for my table. The stink from them is better (quite the noxious odor came off of them when I opened them up), so I can actually stand to be close to them now.  As a result, I've been working on my entry into the Atlanta Modern Quilt Guild's challenge for Madrona Road.  We were asked to make a quilt at least 12×12″ using the Madrona Road fabric provided by Michael Miller.  We were given a FQ of one of the fabrics, and a F8 of 6 other prints, and could only add solids or more fabric from the same line.  Here's a sneaky peek at my entry, which might be misleading.
I've got about half of my blocks done for my mini quilt for the challenge, and am excited to draft the rest. The quilt is due at our February meeting on the second.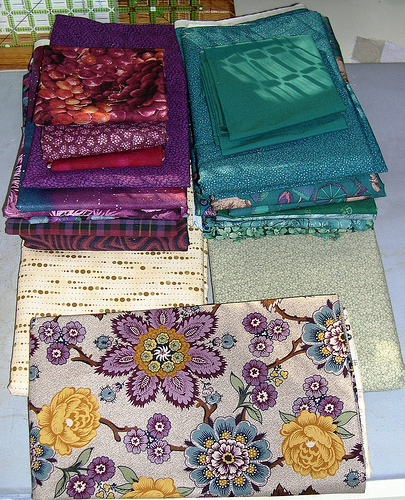 I also need to piece my Saturday Sampler blocks that I picked up last weekend, and might have gotten distracted by the "bring an ugly fabric to guild meeting" assignment. I decided perhaps my fabric wasn't so ugly, and I found a BUNCH of coordinates for it.  And…. I might have pulled them into a configuration that matches Easy Street requirements. You know, when I have spare time.