Well. Here I am, back in the world of the living. Most of the four pounds I gained over the last two weeks have slid back off. My roots are being replanted in my home soil, and I'm feeling more normal.  Correction: as normal as can be with the ramp up of fall baseball season for my son and a wrist injury for my husband from a fall at work.
Speaking of family, here we all are, looking Fancy at the wedding last Saturday. Fun story: I was afraid the dress I bought wouldn't fit since it was a size I hadn't worn since college.  Even though I know I weigh the same as in college, there's still a fat girl in my head telling me to quit fooling myself. I shoved a cookie in that fat girl's mouth (and my own) and tried the dang dress on and VOILA it totally fit.
Moral of the Story: Sometimes the voices in your head are full of crap. And cookies.
Having recovered from the travel, I finally dove back into sewing last night and made some more progress on the quilting on "A Little Birdie Told Me".
This is the center panel, shown from the (pieced) back of the quilt.  I'm mostly outlining the design in the printed panels for those parts and adding loops and circles in the frames. For the outer border of the quilt I'm doing feathers. I started off in one of the printed fabrics on the border so it wouldn't be so obvious if I goofed up the feathers.  I'll save the solid fabric border for last!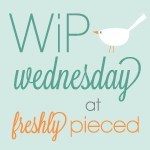 I've got our regular guild sew-in this Thursday, a full-day retreat on Saturday, and then a full day class the following Saturday. I think it's safe to say that I'll be getting in some quality sewing time in the next few weeks!