This sweet little quilt seemed to take forever, but that's likely because I pieced the units as leaders and enders while making other projects.
Apologies for the weird sun stripes - we take our exterior shots where we can around here.
Given all that negative space, I put a giant dahlia in the setting blocks and triangles, as well as in the middle of the blocks.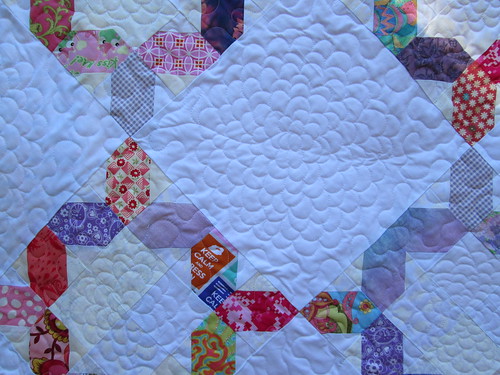 The pattern was adapted from Scraps, Inc, so check that out if you like the modern(ish) aesthetic and are a scrap quilter.
Of course, mine is totally modern because it has a pieced back (inside guild joke).
Once we find out what the pending family baby is, I'll decide if this is getting donated or given as a gift. Until then, it's into the cabinet to stay (relatively) cat hair free, with final washing just before it heads to its new home.