I finished this late Sunday, but it took me until tonight to get it washed/dried and decent pictures taken.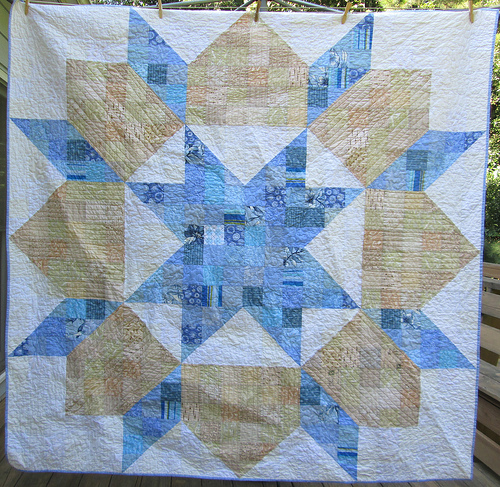 The scrappiness of this one is much more controlled than the last one.  The white-on-white prints, versus a mix of low-volume prints makes it a cleaner look.  I think I could have expanded the beiges into tans more and been okay, but wouldn't want to go lighter and minimize the contrast with the background.  I'd also love this with a teal instead of beige, but didn't have enough fabric in that color to make it work.
For the quilting, I used matching thread in each section, with meanders in the blue and white, and radiating parallel lines in the beige.
The back of the quilt is a white on white print, so the quilting stands out a bit in those blue and beige thread colors.
Now to show it off at guild and then pack it away until the wedding date is set for the lucky couple. I got a little ahead of myself in making it, but I've always been one to plan ahead!
EDITED: Forgot to add the link to the original tutorial so those who want to make one of their own. It measures 72×72″ finished.