I finally got my Star Surround HSTs sewn and trimmed yesterday (slight impediment due to quilting Beachwalk, but I powered through with the help of Project Runway and a card table).
I'm still stymied by the counts of these units - how can six of one unit work out to cover two blocks? I suppose that's why I don't run a mystery quilt along.
Anywho, I also powered through my Saturday Sampler blocks.  My little organized heart was delighted with the alignment of all the prints in the same direction in the blue & white block.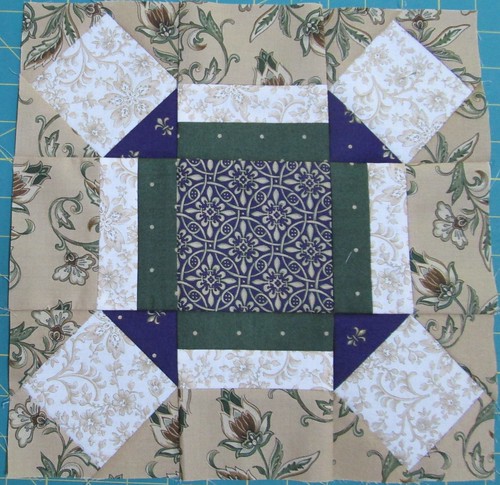 And also finished the 5th Jingle Pieced Block. The 5th applique block is in progress right now. I accidentally embroidered the stems for a straight set instead on point set and had to start over. I'm about halfway done with the applique leaves and bird parts, and can hopefully finish up this block tonight when I want a break from the next Star Surround step.
While piecing all these various blocks, I've been piecing together some more leader & ender four patch blocks and sixteen patch blocks.  Although the Parade of Charity Quilts happened last month at the East Cobb Quilters' Guild, they are still taking donations through the year.  As I understand it, there's always a need for quilts suitable for teen boys, so I'm going with blues, greens, browns, greys, and blacks set with neutrals.  You can tell there are some orphan flying geese blocks thrown in, which is a fun way to use up some of those orphan elements from various quilts.  I'm trying to get at least 42 blocks, and then will add in a couple borders to bring it to a lap size.
And finally, a gratuitous Helper Cat picture. Nina is very smart and has sorted herself appropriately with the oranges.