I am putting the final stitches on the Easy Street Redux top. Well, not at this moment… at this moment I am clickety-clacking on the keyboard and trying to tear my eyes away from the final chapters of The Cuckoo's Calling while simultaneously answering "How much longer until we leave for camp?" from my daughter every 30 seconds.
Ahem.
So two more seams and that top will be done, and I think I've worked out when I can long-arm the center of it on my friend's long arm machine.  In the mean time, I've picked out fabrics for the Star Surround Quilt Along.
Now before anyone shrieks in horror, the 12 Cats of Christmas fabric is over a decade old, I think, and will be used as a border on the quilt.  The quilt will be a Christmas quilt for my daughter's full size bed, hence 1) cats and 2) Christmas.  I'm going to do a 4×5 block layout of 16″ blocks, which means although Melissa has done an awesome job of providing all sorts of math already worked out, I'm still going to have to be a math nerd and do some myself.
My plan is for each star block to have a red in it, and it will pair with either a blue or a green from the other stack.  The Kona Sand is the background.  I have a feeling her method for HST and Flying Geese construction is to pair squares and rectangles instead of triangle pieces so there will be some "waste" triangles, which I suppose just means I'll have little bits leftover to make pillow covers out of.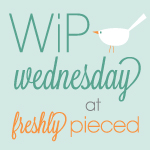 Anyway, enough worrying about that! In between the steps for the SSQA, I'm working on Beachwalk next. FINALLY. Thanks to Katie's post about fear of failure.