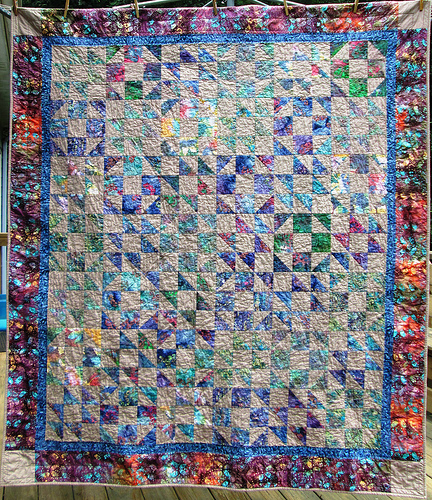 Well, I finished the quilt and picked a name. One of my best friends moved to California several years ago, thinking it would only be for 2 or 3 years, but now it's going on over 7 and they just bought a vacation beach house an hour north of San Francisco.  When they first moved out there I was still figuring out quilting and made her a quilt out of silk dupioni (entirely impractical in retrospect, although at least they didn't have kids or pets in their small apartment).  So with the beach house I figured it was time to re-quilt her with a new quilt.
Hence, Northern Beach Lights.
The pattern is Picnic in the Shade, from the Moda Bake Shop, using a mix of Robert Kaufman linen print in beige and a variety of batiks.  I resized the pattern down to a total of 42 blocks (the original is 8×8 blocks). The finished quilt measures 69 x 78″ with these new dimensions.
The fabrics themselves aren't exactly beachy in the Miami sense of the word, but the low contrast and blues and greens gives it a more northerly beachy feel, which is exactly where her new house is.
I auditioned quite a few fabrics for the border, ultimately settled on a piece of blue for the inner border, and a purpleish batik print with jellyfish or squids on it (or some other shape that just looks like squids- sometimes it's best not to ask!). Of course I was about 6″ too short to make it all the way around the quilt, so I used some cornerstones of the same linen print to make it work.
I mentioned on my last podcast I was not sure about using another batik for the backing, but I ended up using it anyway. I'm pleased to say I didn't have any problems with it, just made sure I had a new needle and had dipped my thread in mineral oil and it all came out okay.
One more off the Q3 Finish Along list!