I am pleased to announce THREE BFSI prizes to giveaway!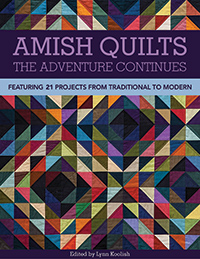 The first is from long-time friend of the podcast C&T Publishing.  Did you know they celebrated their 25th Anniversary this year? Their first book was An Amish Adventure, and to celebrate the anniversary they released a NEW book on Amish quilts called Amish Quilts—The Adventure Continues.  And even better, C&T is having a sale on their website for Black Friday through Cyber Monday for 25% of everything on their website.  See this page for details.
Today, however, you have a chance to win a copy of Amish Quilts - The Adventure Continues by entering the giveaway below. If you are in the US and win, you'll receive a hard copy of the book; if you're outside the US, you'll win an e-copy.
And our next giveaways are from Carole! You may know Carole on twitter as @carolewool, and she is generously offering two fat eighth batik assortments as a giveaway. Each assortment has 12 fat eighths in it, for a total of 1 1/2 yards each. On the left is the blue/green, and on the right is the pink/purple assortment. Carole has generously offered to ship anywhere in the world, so international quilters, go ahead and enter!
The giveaway is open for 24 hours starting at 12:01am US Eastern time on Friday the 29th of November (so no entering before then!). I'll notify the winners by email and connect you with our generous sponsors to get your prizes!
I'm also hosting another giveaway on Twitter at 2pm Eastern on Black Friday, so pay attention to #BFSI to enter.