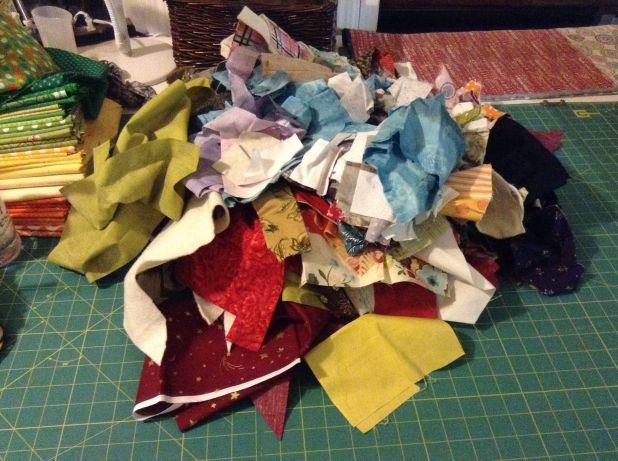 It's been a moderately productive week, although the only way you'd know would be to look at my now empty "OMG SCRAPS" bin.  It formerly housed this monstrosity, ready for trimming. After diligent application of a rotary cutter, some eardrum-popping dance tunes, and quite a bit of coffee,  I finally culled it down to a neat assortment of 5″, 3 1/2″, and 2″ squares with a touch of 2 1/2″ strips.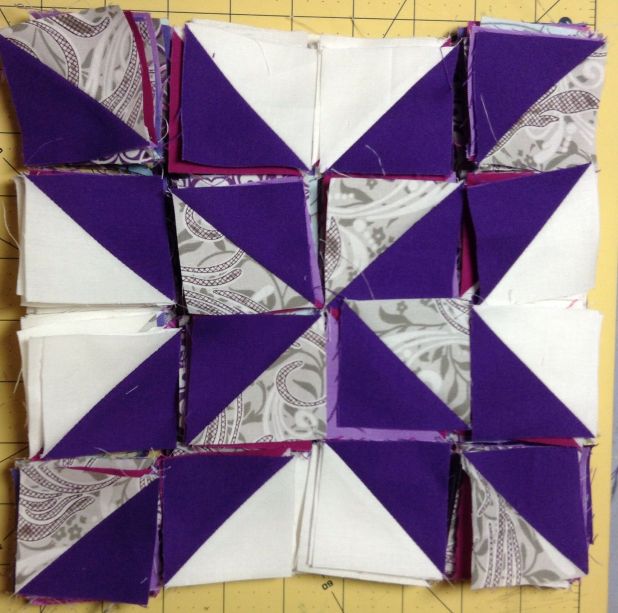 I also trimmed up some waste triangles from the Paparazzi quilt in preparation to make a baby quilt for the same couple that got it as a wedding quilt.  I have enough HSTs to make 13 blocks, which I think I can put into an on-point layout of 3-2-3-2-3 blocks per row. Once I get the center put together, I'll figure out the border, but I think it will make a cute baby quilt for the new little girl.
And, of course, I still have Step 3 of Scrapitude to finish, units for my parents quilts (only 450 to go!), and the preparation for Bonnie Hunter's new mystery quilt. So… no pressure, you know.