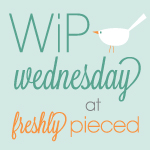 When I had grand plans for baby quilts and random projects, I forgot to factor in that I wanted to make some contributions for the goodie baskets that Good Mews sends to the vets that provide services for our residents.  I ended up deciding on some tags for all the baskets and some folded fabric stars.  I've got all the parts cut for the fabric stars, and am mid-way through the tags.
F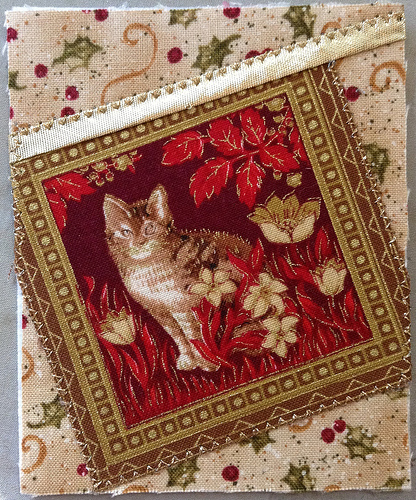 or the tags I used an old advent calendar panel I'd had forever.  I need another advent calendar like I need a hole in my head, so I cut up the pocket pieces into small squares and backed them fusible web.  I fused those and a background piece onto a piece of Peltex; each tag is around 3.5 x 4″.  I'm planning on backing them with a piece of cardstock, attaching a hanging ribbon, and zig-zagging the outer edge to finish them off.  Since I'm doing 21 of them (and need them done by tomorrow night!), I can't spend a ton of time on them.
We also spent last night at my daughter's gymnastics expo.  I'm so proud of her, especially because she did struggle with some events and got embarrassed at messing up, but she bounced back and moved on to the next event without quitting. And yes, Mom, I took video and pictures, and will send them to you!