F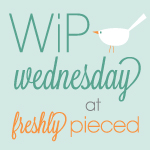 or some reason this week, I got it stuck in my head that instead of finishing anything, I should start something new.  This is different for me, as I typically power through a project until it's done.  I'm trying to do things a bit different this year, though, with the change in jobs (it's going well!), and letting urges strike me.  I am starting to feel a bit scattered, though, and know that the urge to finish things will strike hot and heavy shortly.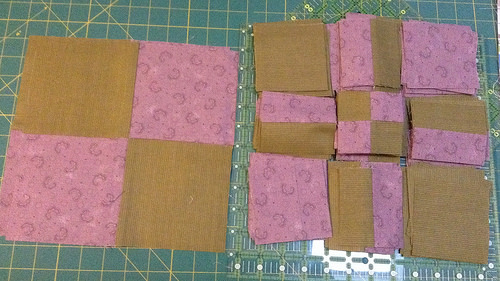 For now, though, I've broken out my oldest WIP that was on my quarterly finish-along goals for all of 2012 and some of 2013 until I just gave up. It's the Lilac Hill line from Moda; I still love the colors - purples and greens and deep reds.  I had originally planned on a king size quilt for my bed with applique and fancy quilting and generally A LOT. But inspiration never struck enough to make it happen.  I had gotten to the point of cutting out 10 1/2″ squares and piecing a jelly roll into sashing, but left it at that. So now, I'm turning all my 10 1/2″ squares into disappearing four patches rather than as a base for applique in each block.
The pieced jelly roll strips have been sewn into 30 patches (a 5 x 6 layout of 2 1/2″ squares), which will go into another top.  I think together I'll end up with two different lap sized quilts.  I'll either give them away as gifts, or donate them, or keep them and pet them and call them George.