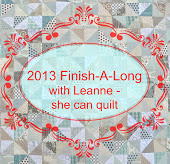 Well, in by the skin of my teeth on one of the projects!  My daughter's Aeroplane bag was the last finish for the quarter on my original goal list, so here are all four of my projects, all completed and pretty. Yay!
Signature Quilt for my daughter's teacher (done, and she loved it)
Aeroplane bag for my daughter (done, and she loved it)
 My Aeroplane bag (done, and I love it)
Labyrinth Quilt for my son (done, and he loves it)
I've got a rough idea of some aggressive goals for Q3. Yikes!