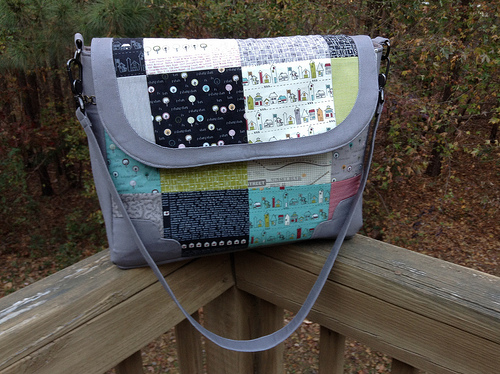 I really loved the Kennedy Bag pattern that Sara over at Sew Sweetness posted on Sew Mama Sew. And it's FREE. Go forth and make a bag!
I used my charm pack of Road 15 by Sweetwater because I loved the colors in it. I found some gray twill that worked as a complement for the sides and bottom, and a grey for the interior as well.
This bag is a great size - not so big that it's a messenger bag, but big enough to hold my purse stuff plus a book (the Velocity Girl back I've been using just holds "purse stuff" but not good for a book, too.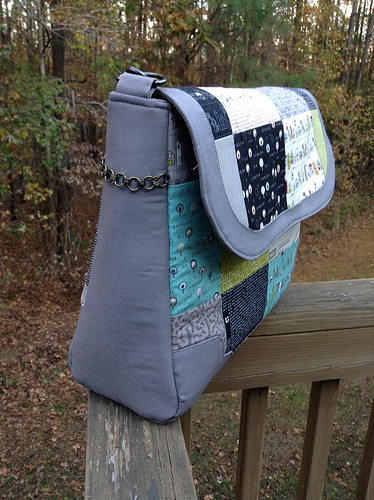 I didn't have access to the hardware for all the buckles that Sara called for in her pattern, so I left off the accents on the flap and mixed up the hardware on the sides of the bag. I found a length of chain with the same finish as the clasps for the handle that worked well for the side, though, and it's great place to clip my keys.  I made some small fabric tabs that I looped through the chain pieces and then sewed in the side seam. You definitely DON'T want to try to sew through a metal chain!
I think when I make this bag again, I'll make a couple tweaks.  I'll probably do an adjustable strap so I can wear it cross-body or over the shoulder, and I'd add at least one pocket on the side for my cell phone. I might add an exterior pocket on the back for things like random badges I need for work sometimes, or pens.