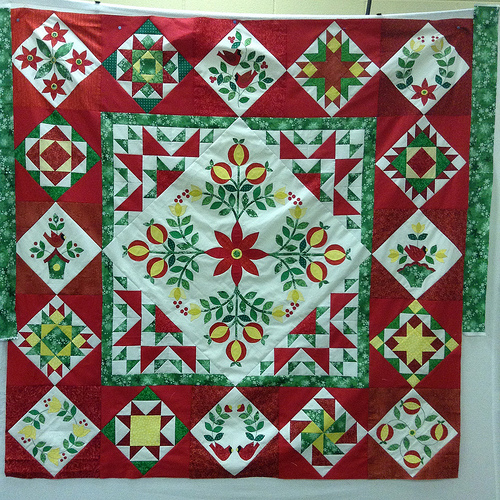 Earlier in the week I finished up the small items for the Good Mews craft fair, and my new purse. I also touched most of the things I packed for retreat while at retreat (instead of just touching them while packing).  I finished the Snowflake Garden wallhanging on Friday night (individual pictures on that on a separate post), and finished the top for the Jingle quilt (seen to the right before I attached the final green border). I also made about 129 out of 576 of the units for my parents' quilt and started a paper pieced project that will be a Christmas gift.
Used this Week: 7.75 yards

0.75 for tissue holders
1.5 yd for Crayon holders
0.25 yd for Coaches gifts
0.5 yd for Coffee cozies
2.25 yd for Road 15 bag
2.5 yd for Snowflake Garden

Used year to Date: 364.25 yards
Added this Week: 3 yards

3 yd Kona solids (Snow & Sable)

Net Used for 2013: 181.75 yards
YTD Used for Charity: 140 yards (39% of total used)
See more stash reports at Patchwork Times!