I've finish a number of small projects this week, as well as lots of progress on several mystery quilts.
First, we have the finished Step 3 from Scrapitude. Photo taken at night, thereby keeping the fine tradition of bad photography I pride myself on.
Next we have the first step in Bonnie Hunter's Celtic Soltice.  I'm sticking with Bonnie's palette because I couldn't think of a better one. And I think my daughter might like this quilt for her bed when it's done, and I could spruce it up with a border of a lot of 1 1/2″ squares in blue, which is her favorite color.
And finally, some of the little gifties I finished this weekend during the Black Friday Sew-in.  I have 3 Crayon wallets commissioned by my friend Judi, and 2 boys' wallets for the stockings we get from the Salvation Army to fill. We got a 7 year old and 11 year old boy assigned to us, and boy are they hard to shop for to find things that will fit in the stocking and not cost $200+ dollars.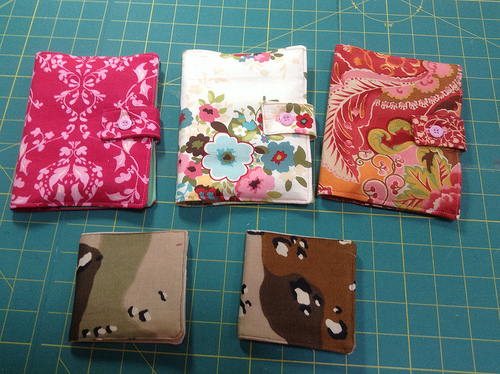 I also finished a zipper pouch and folded fabric star for the upcoming holiday swap for the AMQG, but will wait to post a picture until after the swap (and I have to make another small thing to put in the pouch anyway!).
Used this Week: 5 yards

0.25 yd for wool felt project (pics after Christmas)
0.5 yd for zippered pouch & star for AMQG swap
3.5 yd for Aeroplane bag & pouch
0.5 yd for 3 Crayon wallets
0.25 yd for boys' wallets

Used year to Date: 376.25 yards
Added this Week: 0 yards
Net Used for 2013: 190.75 yards
YTD Used for Charity: 144 yards (38% of total used)
See more stash reports at Patchwork Times!