I've started piecing the blocks for my parents' quilt, and have finished…. let's see… I've got to count… ONE. I've finished ONE block. Out of sixteen. It's been a busy week at work wrapping up a bazillion things before I move to my new one.
I've got a sew-in tomorrow night for my guild and will work on piecing the remaining 15.  Right now the units are laid out on a card table and not terribly portable, so I'm working on webbing the blocks together (chain piecing the rows together) and then do the finishing seams at the sew-in.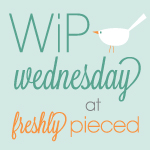 I've been using the QoV HSTs as leaders and enders, and think that'll be my plan for this year - to use charity quilt pieces as leaders and enders for my "main" projects.  Since the new job officially starts TOMORROW (wheeeeee!), I'm hoping that will help me keep up charitable sewing if demands on my time change significantly.
In other news, cats are weird.