Waaaay back in 2011 I got a jelly roll of Lilac Hill fabric, and decided I would use it as 2 -1/2″ square sashing around 10 squares of fabric in a king size quilt.  I was going to do trapunto quilting! Applique! Fanciness!
I quickly became overwhelmed with the project, although I had the sashing pieced together into strips of 6 2-1/2″ squares and a lot of 10-1/2″ squares of green and purple.  And those sat in a box for about two and a half years. In the past month, I've been thinking of these cut up pieces, and wondering what I could do with them.
I ended up turning king-sized pieces into 2 lap quilts.  The first I call "Lilac Bits", and uses the squares cut from the jelly roll, and some 2-1/2″ green strips I had cut for binding.  I can tell it's an old UFO because I now cut my binding at 2-1/8″.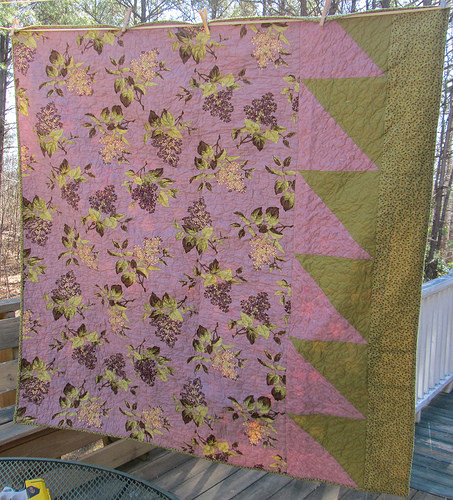 I put a border on it from a small floral print in the line, and some more of the 2-1/2″ squares for cornerstones.
Of course this is a modern quilt because the back is pieced (an inside joke at my guild). The purple and green HSTs were actually the setting triangles that were cut for the king-sized quilt.  The large lilac print was originally meant for the border of the king-size quilt, and the other green fabric is a piece of the same fabric from the old binding strips.
This one is quilted with an overall meander, since it's super scrappy on the front.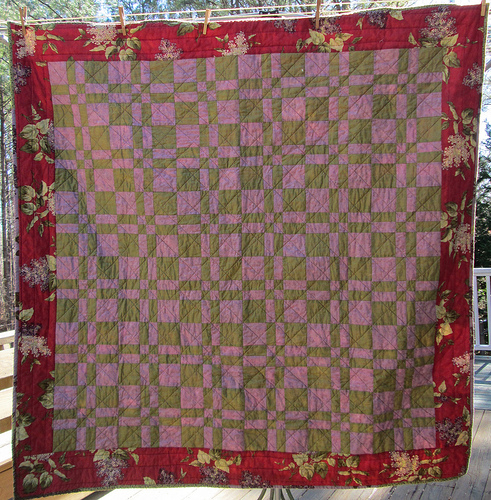 For the second quilt, I ended up using the 10-1/2″ squares I had cut to make some disappearing four patch blocks. I ended up with 36 blocks that finished around 9-1/4″, I think.  For this block you'd ideally want more contrast between the two colors in the block, but the subtle effect is okay for this line, in my opinion.
This one is quilted with all straight-line quilting and has a scrappy binding.  The backing on this one is also scrappy, with more of the purple lilac fabric, a large piece of brown floral from the line, the last two HST blocks from the setting triangles and some more 2-1/2″ squares thrown in for good measure.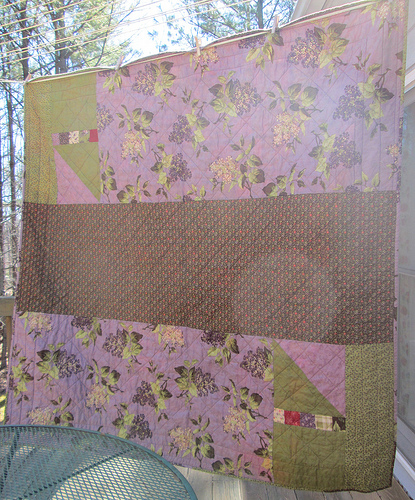 The pictures aren't the best, but the sun was FINALLY out for long periods of time after Clusterflake, so I'm not complaining!