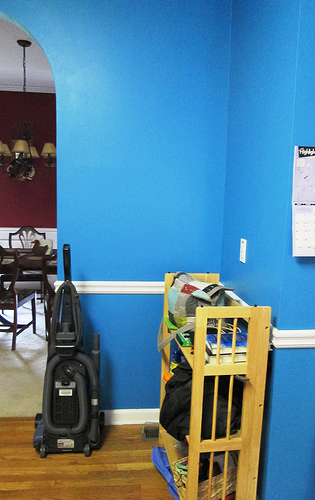 While I love our house, there is no closet to store a vacuum cleaner. This occasionally troubles me, and is not particularly germain to this effort other than to explain why the vacuum cleaner is featured prominently in the "Before" picture of this area of my kitchen.
This is a weird corner that should be a pantry, except there's already another one just opposite this shot. Or maybe the wall on the right should be knocked down and the coat closet that just to the right expanded in footprint, except there's a GFI outlet in the wall we'd be knocking down and a floor vent behind where that bookshelf is. I don't know what the architect was thinking with the vent - it's in the WORST place so any piece of furniture blocks it.
Anywho, what you also can't see is the cubby system I had built for the kids just below the chair railing to off screen to the right of the photo above. Except we built it when they were both about a foot or two shorter, and it's in the way of foot traffic into the kitchen.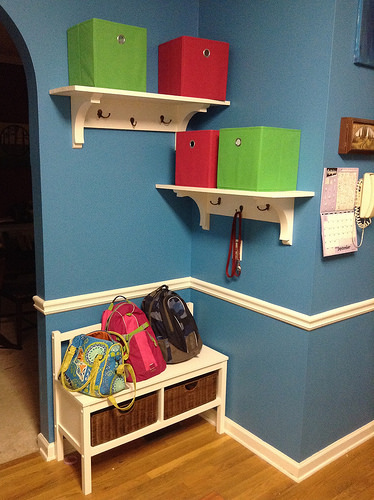 So here's what this area looks like now, post renovation.
The bench I bought through Overstock.com, and the two drawers act as the kids' "junk drawers", one for each. This is for swim goggles, tidbits, party favors, and various the flotsam of childhood.  The top of the bench is now where backpacks and my purse sit when not in use (if on the floor they block the stupid floor vent!). Please note my new purse matches the new kitchen wall paint. A post on that purse coming soon!
The two wall shelves I built and painted using a circular saw, Kreg Jig and a cordless screwdriver. In theory there's now a double hook for everyone for various jackets that we're too lazy to go around the corner and hang up in the coat closet like actual people and not the uncultured, jacket-wearing, heathens that we are. Also, Fred's leash now has an official spot other than "on top of my purse".
The bins on top hold various things - one holds all the sunscreen, one holds all of Fred's accessories as he didn't rate a junk drawer of his own, one for the kids' hats/gloves/etc, and one for fabric grocery bags and spare wallets or purses.  I'm still contemplating making some decorative sleeves for the bins (which were $5.25 a piece at Target) to jazz them up a bit. I have enough purse fabric to further coordinate, but that might be pushing it!
I'm very happy with how it turned out, and even happier that it's just DONE. I've been thinking about this stupid corner since we moved in 10 years ago!
But I still don't have a good place to put the vacuum cleaner.