Oh dear. The Super Bolt Sale at Tiny Stitches did me in this week. I am in the hole, but I'm okay with that, because there's nothing like RED NUMBERS to get you motivated to stitch.  Here's a picture of my haul - 3 pieces of wide backing, 3 different pinks, a fun turquiosey blue print, a popcorn print, a MASSIVE length of white on white animals from the Brown Bear line with Eric Carle shapes, and EVEN MORE lime green with a white vein stripe.  I also got a pre-cut of Honey, Honey by Kate Spain - don't know what it's called, but it's 20 5″ WOF from the line, rolled up like a jelly roll.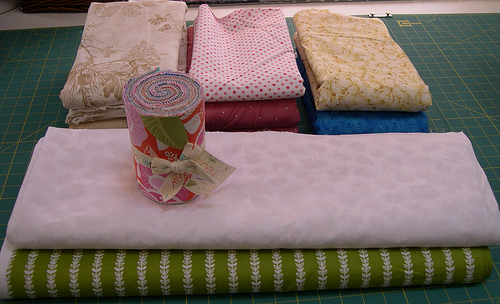 Technically this is a two week report since I forgot last week, and only used a 1/4 yard for Bloomer's owl last week, but that doesn't really make the numbers better.
Used this Week: 7 yards

0.25 yd for Bloomer's owl
2.25 yd for 3 nap mats
1.25 yd for machine mats gifts for Facebook Pay it Forward
0.75 for giveaway zip pouches
2.75 for Rainbow 16 Baby Quilt (for Project Linus)

Used year to Date: 34.75 yards
Added this Week: 31.75 yards

1.75 of Sew Stitchy for a sewing machine cover (charm pack and yardage)
30 yards from the Super Bolt sale

Net Used for 2012: 7.25 yards
YTD Used for Charity: 19 yards (55% of total used)
See more stash reports at Patchwork Times!