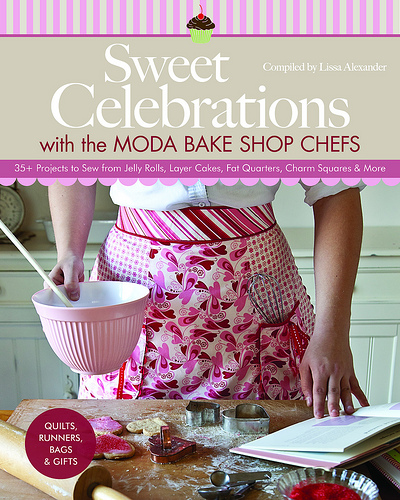 I've recently had the chance to review a copy of the Moda Bake Shop's latest book: Sweet Celebrations with Moda Bakeshop Chefs: 35 Projects to Sew from Jelly Rolls, Layer Cakes, Fat Quarters, Charm Squares & More.  That's quite a mouthful of a title.
One of the reasons I was drawn to this book was that my husband comes from a large family. Like, really large. He's the youngest of 4, and family gatherings for holidays like Thanksgiving are an intimate gathering of 25+ people.  That number is just his siblings and their families, and does not even count all the people that can show up a family reunion.  And for each family reunion, my MIL (who is also a quilter), makes a table runner or wallhanging with the names of various family members on it, and it's raffled off at the gathering.  One of the things I love about the Moda book is that it offers a lot of project ideas for these types of projects!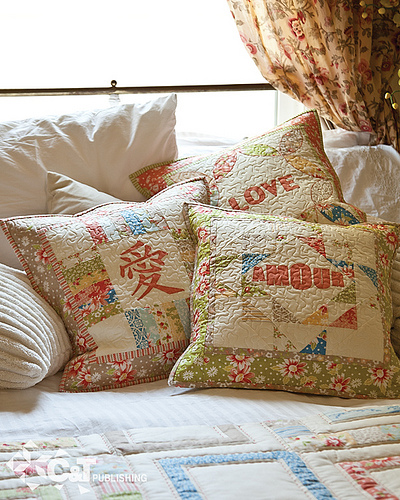 The Thankgiving Gratitude Quilt is a lovely idea that would work for either writing gratitudes in each block, getting family members to sign, or even as a living guest book for visitors to your guest room. Ditto for the Wedding Wishes quilt (seen to the left with coordinating pillows), and even the Notebook Autograph quilt, which looks like a giant sheet of notebook paper.  And that doesn't even include the actual family reunion quilt in the book.
On less reunion-oriented projects, I also fell in love with two other quilts in the book.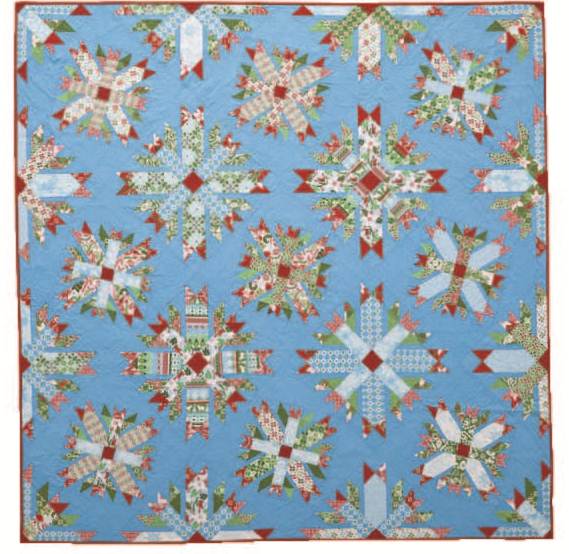 Now, I need another Christmas quilt like I need a hole in the head, but the Let it Snow Quilt was adorable (if you've listened to my podcast for any length of time, you probably know that is not a word I use a lot - perhaps only in relation to kittens).  I love that the snowflakes are set at jaunty angles, and I love the blue background.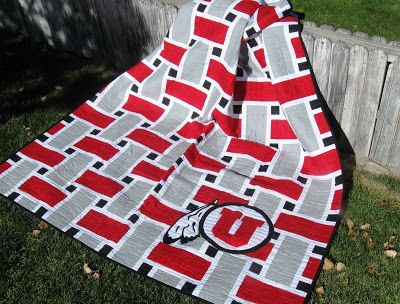 On a non- Christmas related quilt, I love the Rah Rah Rally quilt, and will likely make one for my kids' high school colors when the time comes. I might even make one in their elementary school colors for my son's current teacher, who I guilted into buying a raffle ticket for the quilt I made for the school last year.
I did have two comments for C&T, the publishers of the book.  One, which I already sent them, was that there's no index in the book to look up projects by pre-cut type. For a title to tout itself as pre-cut friendly, I was disappointed to not be able to go to an index with the question, "I have a jelly roll, what can I make with it?".  And I heard back from C&T that they'll include something like that in future pre-cut focused books.  I also think that the front cover picture might not be the most indicative of what's in the book; I get that the Bake Shop idea combines baking terms and fabric pre-cuts, but the apron on the cover doesn't really reflect all the projects I loved in the book.  There's a lot of masculine projects in there that also aren't reflected by pink and frills, so don't let the cover image dissuade you - there are a TON of projects in here for a variety of occasions and recipients.
Sweet Celebrations with Moda Bakeshop Chefs is available at major bookstores or from the C&T Publishing website.