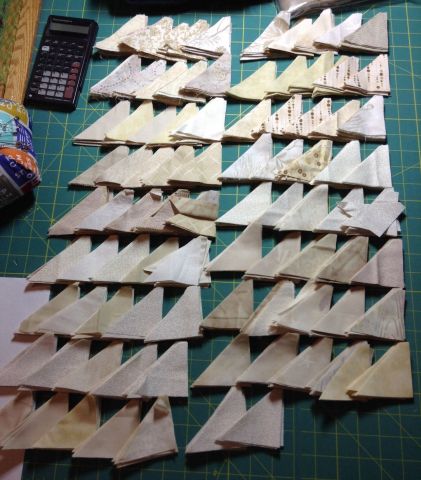 I am wading through the massive cutting effort of making a king size quilt mostly 2 1/2″ HSTs.  I'm about 1,260 pieces into a total of 1,728 just for the background, so hey! The end is nigh! One way or the other anyway (she said grimly).
UPDATE: I finished cutting the background pieces! There was indeed much rejoicing.
In between cutting I've finished some small projects- coin purses, pillowcase, totebag.  I've got a couple other bags lined up to make in between quilting projects, so I'm staying busy to say the least.
Used this Week: 3.75 yards

1.5 for totebag (pictures posted soon!)
1 yd for 6 zippy coin pouches
1.25 yd for birthday present (pillowcase & coin purse)

Used year to Date: 351.5 yards
Added this Week: 0 yards
Net Used for 2013: 172 yards
YTD Used for Charity: 136 yards (39% of total used)
See more stash reports at Patchwork Times!