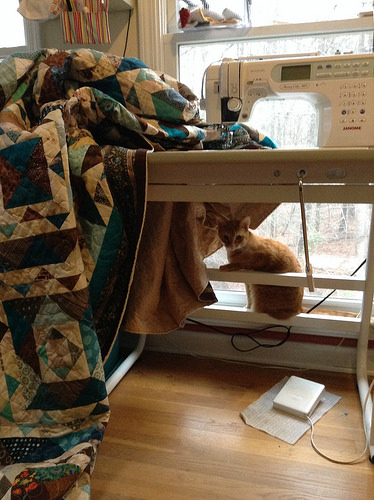 At one point yesterday, there were three cats entangled in my parents' quilt, shown here with binding attached but not stitched down yet.  I had Jett inside the quilt on the floor, Nina inside the quilt on top of the table, and Morelli on top of the quilt but next to Nina. Morelli is a stealth snuggler and keeps trying to sneak up on Nina and Fred the dog to snuggle with them when they are under various quilts. They inevitably figure it out then Morelli slinks off guilty.
Anywho, when I'm not handstitching binding down this week, I was moving quickly on a lap quilt for someone as a last minute gift.  I'm thinking I'll get the top pieced at my guild sew-in Thursday evening, and then I will still have a pile-up since the Quilt of Valor is still waiting to be quilted.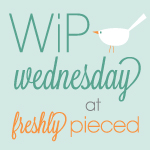 I've also made some progress on my Tula Pink English paper piecing - I've got two rows finished and stitched together, and will be making a lot of progress on it this weekend while my son competes in the Science Olympiad and I'm hanging out waiting with him for SIX hours.