A fairly productive week all around; the kitchen got painted, two quilts for charity got both tops and backs pieced. One is sandwiched, and once I get more batting I can sandwich the second one. I also had my class on feather quilting with Sharon Schamber (eee!), so I'm looking forward to practice some of that on one of the charity quilts.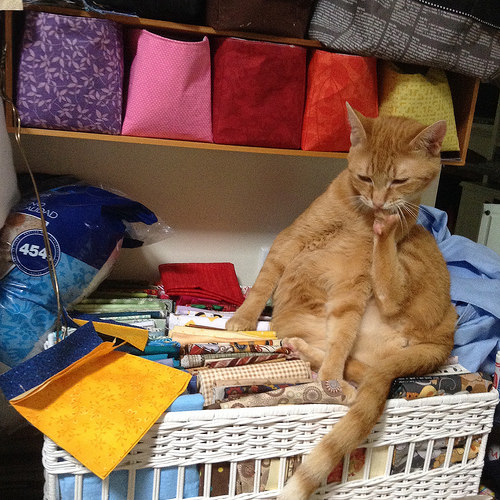 I learned last week that the East Cobb Quilters Guild is doing a block drive for QoV, so I made a couple string blocks to contribute and have pieces cut for four pieced blocks to mail in.
Meanwhile, Nina has been expressing herself on my fat quarters.
Used this Week: 3 yards

2 yd for accessory tote
0.5 yd for QoV string blocks
0.5 yd for practice FMQ sandwich

Used year to Date: 215 yards
Added this Week: 0.5 yards

0.5 yd of black Kona for future class with Esterita Austin

Net Used for 2014: 141.25 yards
YTD Used for Charity: 72.5 yards (34% of total used)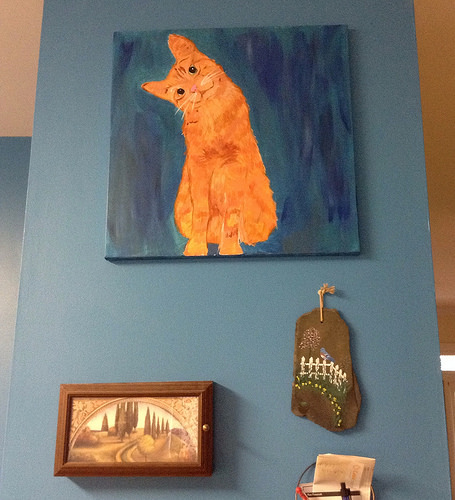 See more stash reports at Patchwork Times!
P.S. - Bonus shot of Nina painting watching from the newly painted kitchen. Nina painting by me, bird on slate (just below Nina) painted by Grama Eddie.