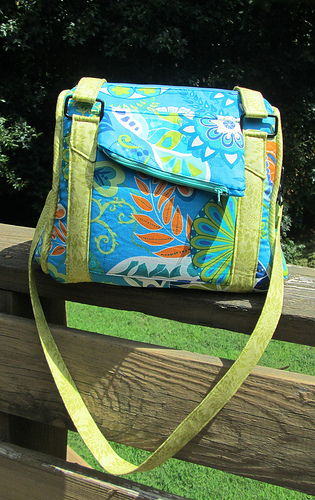 I was due for a new purse, not because the old one was worn out, but because pretty fabric exists in the world. And also because apparently I needed to match it to the paint in my (recently painted) kitchen?
Anywho, I tested the Rockstar Bag pattern for Sara Lawson over at SewSweetness using a Valori Wells fabric lined called "Cocoon".
I love the shape of this bag, and combination of straps (both short handles and a longer shoulder strap).  There is a lot of hardware in the bag, but it's not an insurmountable number of pieces.
I like that the exterior pocket is big enough for my phone, and I put the badge for work in the small zippered part.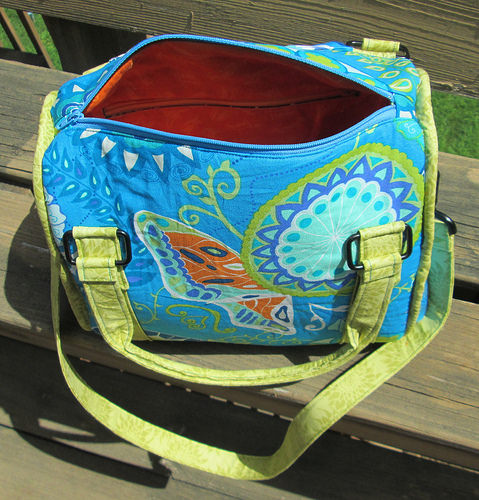 I did my interior in orange, and it has two zippered pockets.  I haven't quite figured out what to put in my second one yet, but the other has typical "lady needs" like lipgloss and such.
And although I didn't fussy cut, I did end up with a nice big butterfly on the exterior pocketless-side.
The piping is optional, but I did like the pop of structure it gives to the side seams. The bag is constructed by making the main and side panels and facing the wrong sides of the interior and exterior pieces, then sewing them together so the joining seam is visible on the interior of the bag.  You then cover that seam allowance with the equivalent of quilt binding; if I had it to do over again, I would have cut my interior binding a bit wider so it would have been easier to manipulate!
I foresee using this purse for a while - the bright colors cheer me up. And like I said, it matches my kitchen!
The pattern is available through Sara's website at www.sewsweetness.com.