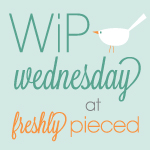 I feel like I have a million things in flight, which means I need to buckle down and finish something!  First up, the quilting on the panel challenge project. Last week I showed you the front of the sunflower, and now here's the back. I've still got background fillers to do in two areas, and then the sashing, and then it will be ready for binding!
We also just got the cutting instructions for the Scrapitude "Scrap-in-a-Box" mystery quilt, and while we've got FOUR months to cut the pieces out, I immediately made a pile of what I'm pulling my scraps from.  This is going to be a gift for someone who's favorite colors are red, black, and taupe, and save it from being a University of Georgia quilt, I'm pulling in a smidge of brown as well.  Since making my pile, I've swapped out my background to a single mottled beige, and am noodling on my medium value constant.
I'm also cutting out pieces for a new (to me) overnight bag pattern for a review in October, and a special project for Good Mews, and assembling some fabric postcard bits, and have some pillowcases cut out to sew, and I also may have cut up two other panels to make 2 tops since I found at least five more panels when I was going through my fabric stash. They are multiplying! And then I need to quilt the Broken Lonestar, and I have a class in two weeks to make a new jelly roll quilt.
Deep breath.