I'm working on two things this week.  Well, three if you count me need to catch up on posting pictures of finished quilts. Let's not focus on that right now, though.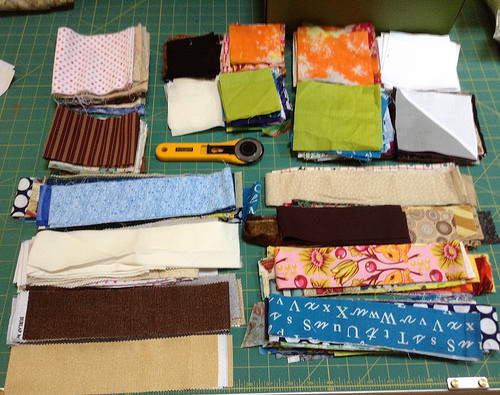 First, I tackled the miscellaneous scrap bin of bits and pieces that needed to be trimmed into usable sizes.  It was overflowing with 3 months (or more?) worth of projects discards, so here's what I yielded.
Starting in the upper left going clockwise, I've got 5″ & 3 1/2″ strips, 3 1/2″ squares, 5″ squares, 2 1/8″ strips for scrappy bindings, and 2 1/2″ WOF strips. That doesn't include the frillion 2″ squares that get sorted by color into the right bins as I cut.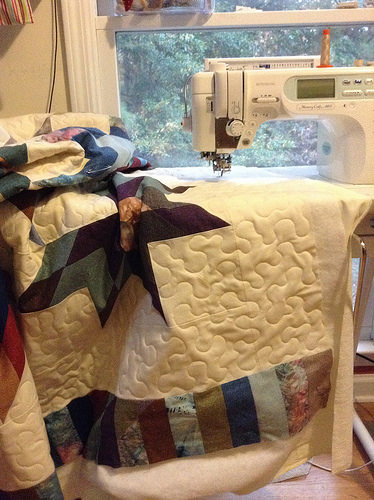 As I got blessedly near the bottom of the pile, I started thinking there was something I was forgetting.  And then last night I remembered - I had another quilt to finish that I wanted to show off at the East Cobb guild meeting tomorrow night!  So I got it sandwiched and quilted all the background on it last night (it's the Kimberly Einmo Lone Starburst pattern).
I'll quilt the actual stars and piano key border in blue thread, so that will be tonight's mission so I can bind it before the meeting tomorrow (she said, laughing a bit hysterically under her breath).