I am typing this out frantically between calls for work because DAGNABBIT I'm going to get it posted on a Wednesday. I also officially have a Pile Up - three tops to be quilted!  I think this one is going to be first finished because it's smallest.  And because it's on top of the pile!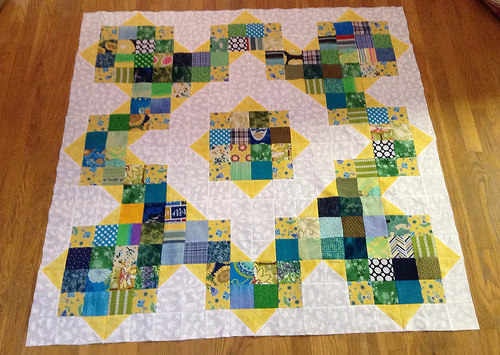 This is made with split nine patch blocks- 32 of those and 4 straight-up nine patches.  I used the same yellow with blue/green floral print for the center of all the split nine patches and a yellow for the HSTs on the corners of the blocks.  From there it's scrap happiness in blues and greens for the rest of the squares.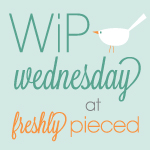 I cut this out last minute to take to retreat in case I ran out of projects, and I got all the HSTs made and some of the blocks put together on the last day. Thank goodness I did- it's a super happy quilt, and it's going to be a Christmas present for our neighbors. Their kids fight over the baby quilts I've given them, so I'm trying to reduce the drama for the parents!