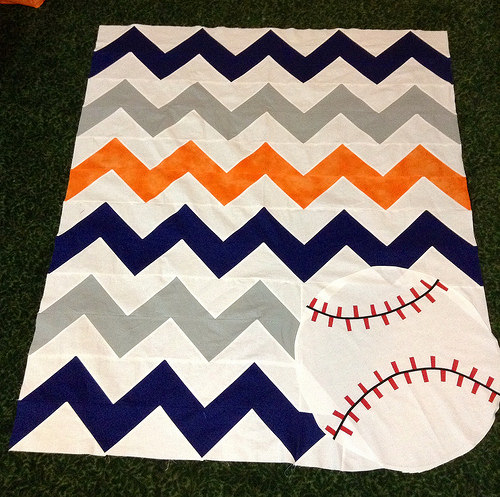 It was a Very Productive Weekend! Beyond the two quilts I finished at retreat, I also got two tops (and one back) pieced, as well as 11 journal covers to be donated to Wellspring Living.
This is a fun chevron baseball quilt I'm making on commission- I got the top and the back pieced, and will get it quilted in the next week or so.
Here's my Kimberly Einmo Lone Starburst quilt top.  I added the piano key border at the top and bottom so it wouldn't be square.  My friend Judi saved my bacon and loaned me fabric to add the background border so I could finish the top.  It was one of two things I managed to forget for retreat - that an my E-Z Angle ruler. It will get backed with minky and be another couch snuggling quilt for my living room.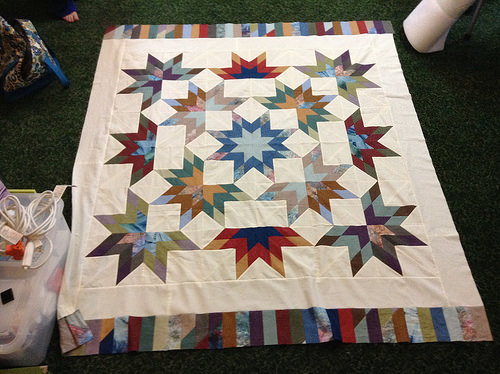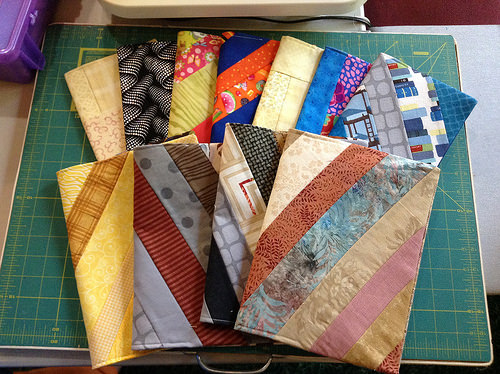 And finally, here are the journal covers I made for composition books.  Wellspring Living requested some journal covers for the girls in the recovery program since they do a lot writing in the rehabilitation process, so I used a tutorial had written up a couple years ago to make most of these.
Used this Week: 7.75 yards

5 yd for Funkytown Christmas quilt
1 yd for Twister Tablerunner
1.75 yd for 11 journal covers

Used year to Date: 282.5 yards
Added this Week: 1.5 yards

1.5 yd of a Kaufman linen print

Net Used for 2014: 183.5 yards
YTD Used for Charity: 108.25 yards (38% of total used)
See more Stash Reports at Patchwork Times!