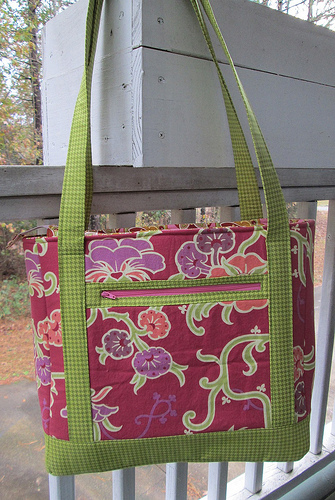 I got to test another pattern from Sara at Sew Sweetness recently, and I'm quite pleased with the project!  The pattern is called the Tudor Bag, and it's a "beginner friendly" bag with lots of add-on options. Me, being me, added pretty much all of them on.
My options used were exterior zipper pocket, top zipper closure, and shorter handles.  I didn't do the long shoulder strap, mostly because I lacked the hardware when I was making it.
I picked an large scale Amy Butler fabric for the exterior with a fun houndstooth for the accents.  The interior is another Amy Butler print.
The interior has additional pockets that are sewn into the seams and divided so your stuff stays sort of organized. As with most of Sara's bags, she recommends Soft & Stable, which gives it some nice body and shape.  If you've been looking for a basic tote pattern with some not-so-scary options, give it a try!