I mentioned in the podcast a couple episodes ago that I was working on a Turning Twenty inspired block that would be more suitable for smaller projects like baby quilts or lap-size quilts.  I love the simplicity of T20 quilts,  how quilt they come together, and the ability to show off large scale prints. I didn't love how off balance it can be if you try to use it in a smaller project than twin size quilt.
This block finishes at 9″, and is still easy to cut and piece.  This is what the blocks look like:
And here's the cutting plan for three different fabric sizes!
Fat Quarter
Fat Eighth
Layer Cake
With 9″ blocks, a layout of 6 blocks by 7 blocks will yield a quilt top that's 54 x 63″, which is a nice size lap quilt.  You could make that with 14 fat quarters (getting 3 of each block element from each FQ), 28 Fat Eighth's, or a layer cake set with 42 10″ squares.  To assemble the top, just start laying out your A Blocks and B Blocks in a random pattern until your happy with the placement of the values and colors: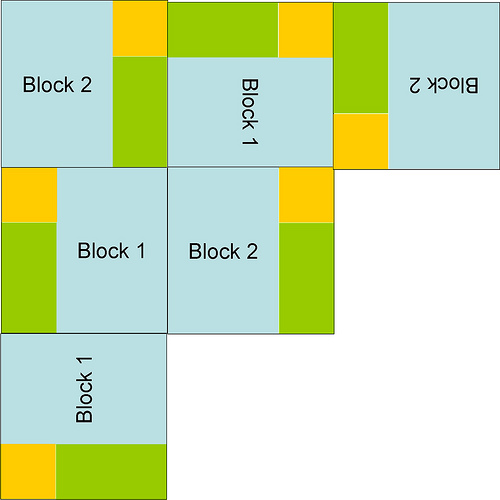 Enjoy!
Edited to add pictures of two finished tops with a 6×6 block layout - these measure 54″ inches square: