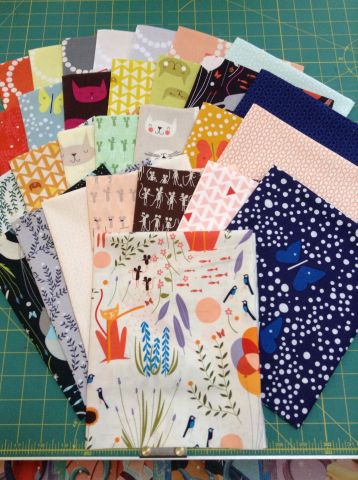 No big finishes this week, but I did try out a pattern recommended to me by Judi (hi Judi!) for baby quilts.  It starts with 1 yard of 3 different fabrics, two cuts each, and poof! Pieces for 3 baby quilts.  So far I've got 2 quilted, and the 3rd waiting in the wings.
Just as well I logged some usage since the final part of my Christmas present arrived! It's a fat quarter assortment of the Catnap line from Lizzy House. At least I think that's what it's called. So yes, I got cat fabric. It's rare for me to pick cat fabric out for myself since it's rather cliched!
Used this Week: 4 yards

4 yd for 2 baby quilts for charity

Used year to Date: 34 yards
Added this Week: 7.25 yards

7.25 yd of Lizzy House Catnap FQ assortment

Net Used for 2014: 16.75 yards
YTD Used for Charity: 9.5 yards (28% of total used)
See more stash reports at Patchwork Times!