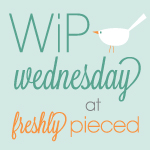 I realized this morning I would need to do a WIP Wednesday post, and then promptly forgot about it while I carried on with my day, putting on Real Pants and driving into a real office and eating an actual meal with silverware in the middle of the day with other human people. I also finally broke down and got a new badge made for work on the chance that I'll be going in to said office more and my old one uses a magnetic stripe instead of the proximity RFID chip and zzzzz…. I'm even boring myself with that sentence. HOWEVER!
My new picture is pretty cute and I have a real smile in it and not the half smile I usually end up with because I felt like I was smiling like a giant dork and obviously I have no sense of my own face (see also: bitchy resting face, sufferers of).
My Real Pants are a size smaller than I thought I was and they aren't even snug, but rather fit well. Huzzah!
I also ate Thai food, which I wasn't sure I liked and then remembered, oh yes, Pad Thai with chicken and crunchy peanuts. I do like that.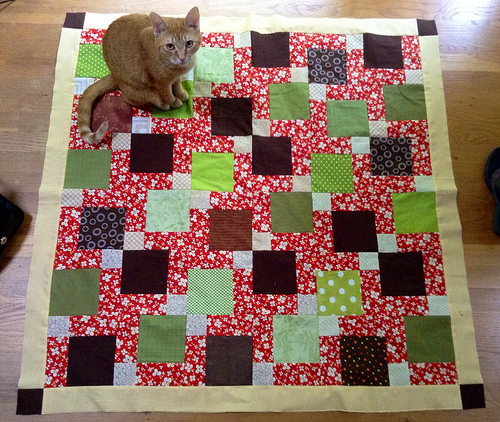 Anywho, I'm actually actively working on 4 things I can't show pictures of yet, so here is a picture of one of my disappearing nine patch quilts from the demo at my guild last Sunday. It's getting one more border of the red-orange floral before it gets sandwiched and quilted.
Nina looked exactly this guilty when I got home this afternoon, so I'm not quite sure what she got into but I'm sure it was a grand adventure of her own.