I was casting about for something to include in this week's WIP Wednesday, but as I just finished three quilts this weekend (all disappearing nine patches, pics soon), and four other seekrit projects, all I'm left with are pieces of a bean bag I'm making for my daughter. They are not exactly photogenic, so I'm showing a recently finished project instead.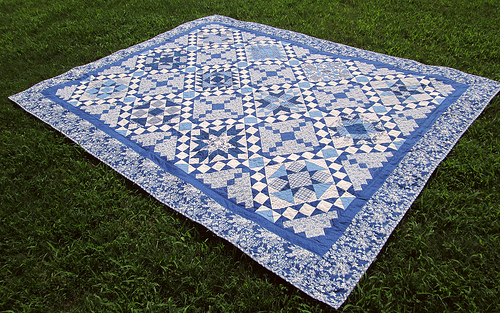 This is Saturday Soireee, which was a Saturday Sampler/block of the month program through Tiny Stitches in Marietta, GA.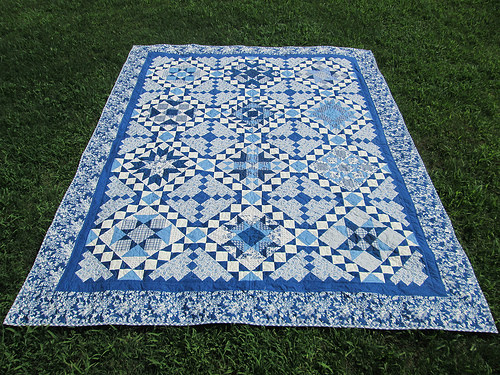 There are twelve sample blocks, set with pieced sashing (comprised of a BILLION pieces - trust me, I counted!), and setting blocks (about half a billion pieces).  It comes out to a slightly long full size quilt, which is perfect for my daughter's bed. Also perfect: her favorite color is blue.
It will be slightly less perfect when I have to pry it off her bed to show at guild at the end of the month, I'll tell her I'm washing it or something.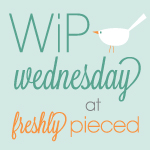 Full disclosure: the bean bag doesn't match this at all, but it's being made of home dec fabric I already had in pinks and lime greens. And neither the quilt or bean bag match the Minecraft motif she's got going on in there, too. Oh well. At she knows what she likes!