Some good traction this week as I close the gap on 200 total yards used!  I might even make it today if I finish up another charity quilt, but didn't want to count my quilts before they're bound and all that.  I have finished one of the disappearing nine patches for charity as well as four smaller projects, as well as the blocks for the Saturday Sampler program at Tiny Stitches.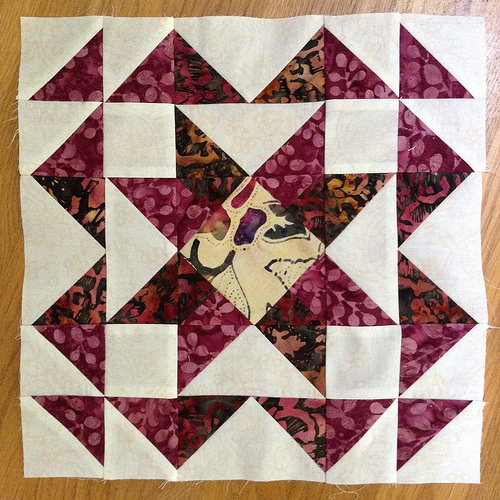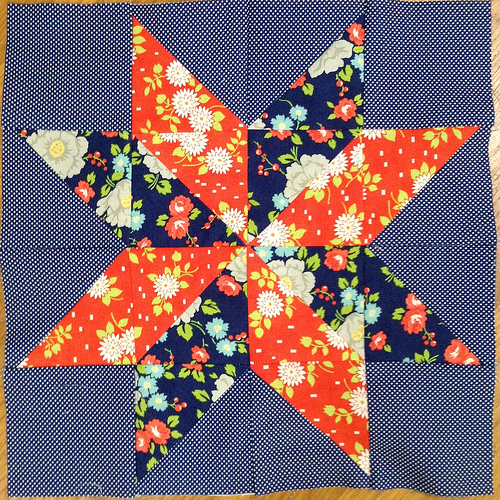 On the left is block 6 from Mum Medallion.  This month also "required" the specialty ruler, but I did some math and figured that I just need to cut the center part of the square-in-a-square to 3 3/8″ and then make the pieced outer parts of the SiS per the directions (fyi, Melinda, in case you are reading!).
On the right is the first block in the new program; I think the shop name is "Bonnie and Camille Saturday Sampler", so I'll go with that until a different name strikes me.  It is, appropriately enough, made with fabrics from Bonnie and Camille of Moda and Camille Roskelley fame.  The other colorways were Kaffe Fasset and a blue/yellow/white combo.
Used this Week: 8.75 yards

4 yd for seekrit projects
4.75 yd for Orange Pinwheel Disappearing Nine Patch

Used year to Date: 196 yards
Added this Week: 0 yards
Net Used for 2014: 124.75 yards
YTD Used for Charity: 60.75 yards (31% of total used)
See more stash reports at Patchwork Times!