Is anyone else's guild discouraging the use of the word "charity" in regards to donations? That has popped up in several areas of my life and I have apparently turned into an old fart who is set in my ways and can't change my vernacular. Pardon me while I write this while sitting on the davenport, drinking a hot toddy and contemplating hemlines above the ankle.
NOTE: None of those things are true. Except the ankle thing - why do we need to show so much leg? Imagine how much more quilting we'd get done if we weren't worried about personal grooming on our calves.
Anywho, this week I had to veer off course as I wanted to finish some "community benefit" projects. Or whatever the heck I'm supposed to call the 6 placemats for Meals on Wheels and 2 pillowcases I finished.  I do have two quilts sandwiched and ready to quilt, but those will have to wait until I finish a Seekrit Project for someone.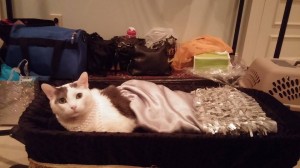 Here's a previous Seekrit Project I finished that was debuted last night: a fancy flapper dress for a cat! The silent auction last night was "The Great Catsby", so we were all encouraged to dress in 20's theme. The model is Tricky, a cat that lives at Good Mews Animal Foundation; she was the victim of domestic abuse seven years ago and is paralyzed from the waist down.  Because the shelter has such awesome donors, they are able to keep her in diapers and pay for her many medications.  She was wheeled in as guest of honor in a wagon draped in velvet and fringe- quite the entrance!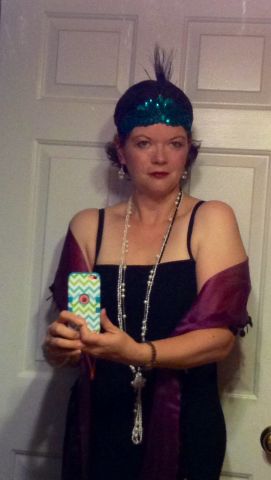 My own "costume" took some liberties since I stuck with a black dress I already had and added some flapper-esque accessories like a headband and a TON of eye makeup. Gah. Reminded me of high school band flag corps when I had to wear enough eye makeup to be seen on the 50 yard line from the stands!
Alas, no yardage used in my or Tricky's costume since none of it was quilting fabric!
Used this Week: 5 yards

3 yd for placemats
2 yd for pillowcases

Used year to Date: 282.5 yards
Added this Week: 10 yards

10 yd of various fall prints from a bulk purchase of a de-stash (2 of which already used for pillowcases!)

Net Used for 2014: 178.5 yards
YTD Used for Charity: 113.25 yards (39% of total used)
See more Stash Reports at Patchwork Times!