I'm working on a Seekrit Project this week, so rather than posting a picture of a lot of blurred out or black bars across it, I thought I post a picture of my stash.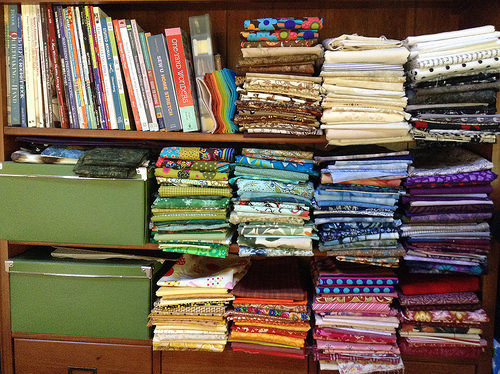 I do have two drawers next to this shelving units that contains batiks (FQs or so) and novelties (50% holiday fabric and 50% random novelty), and a bin of FQs, but this is the bulk of my quilting fabric.
I'm still favoring the cool colors more than the warm, and I could probably use some grays and blacks as well. The chicken-and-egg question is do I not use more black and gray because I don't have it, or do I not have black and gray because I don't use it?
For comparison, here is my stash two years ago: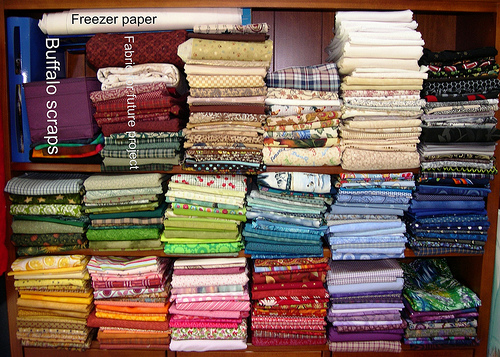 So yes, my stash overall is smaller, but that is on purpose. I started tracking Sunday Stash reports in early 2012, and my net used yardage from 2012 through last weekend is over 600 yards .  That's a whole lot more yardage out than in!  My stash is manageable and doesn't feel overwhelming. I still have enough fabric on hand to make projects without shopping, but I also have room to add fabrics if I want.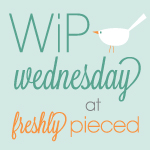 I've also spent more time working with my scrap stash, which isn't shown in either picture, and those are used in a lot of charity projects and mystery quilt and general last-minute gifts for people. In general, I'm happy with where I'm at with my stash, although I wish I had more money to spend on fabric!